We have been upgrading our closets in our house using the Elfa system from The Container Store. I love all the organizational drawers, shelves, etc. However, I think my favorite organizational accoutrement is their clear vinyl bag organizer!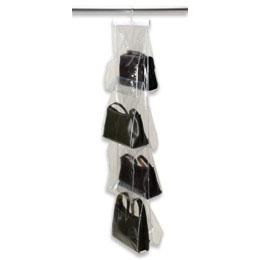 It's the perfect way to store my work bags up off the floor and in our closet!
I had to modify mine so that I could hang it on a half rack, by cutting off the last four pockets. It was easy to do, however, and I liked the polished look.
If you enjoy being as organized as I do, The Container Store is a wonderland!
Grab your 8 pocket organizer here!