Last weekend, my husband and I were in NY for the Alexander McQueen exhibit "Savage Beauty." We wanted to catch a glimpse of the designer's incredible couture exhibit before it left the MET, and I highly recommend you check it out as well!
After patiently waiting in line (I suggest going early in the morning, when the line tends to be smaller) we finally entered the Cantor Exhibition Hall...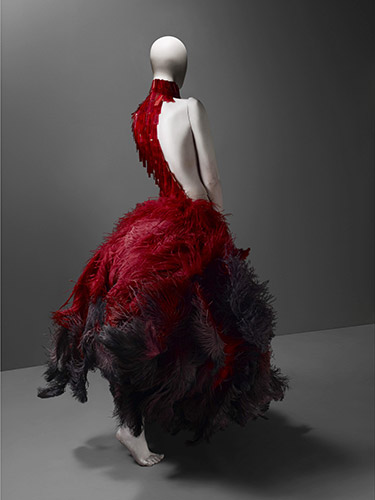 where our first introduction to the exhibition was this exquisite dress from McQueen's spring/summer 2001 collection titled,
VOSS
. As Andrew Bolton, curator of the exhibition explained, McQueen used red and black dyed ostrich feathers and glass medical slides painted red, to represent beauty and the blood that is underneath each layer of skin.
After our first glimpse of this gorgeous creation, the exhibit continued to enrapture us with its gorgeous mix of fabrics, textures, images and ideas all created by this remarkable talent.
A few of my favorites included this jacket from his autumn/winter 1997-98 collection titled,
It's a Jungle Out There
.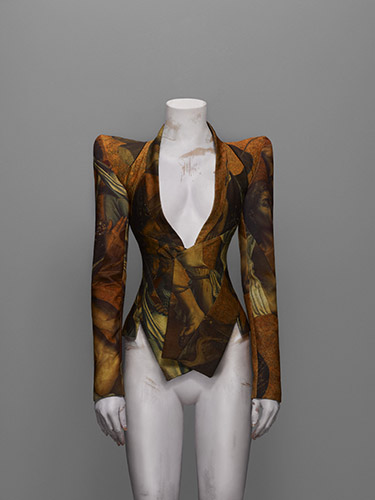 The gorgeous silk and cotton twill fabric, printed with an image from
The Thief to the Left of Christ
by Robert Campin, ca. 1430 pulls you in and causes you to not only see the beauty and workmanship of the jacket, but also feel the emotional pull of the image of the thief on the cross.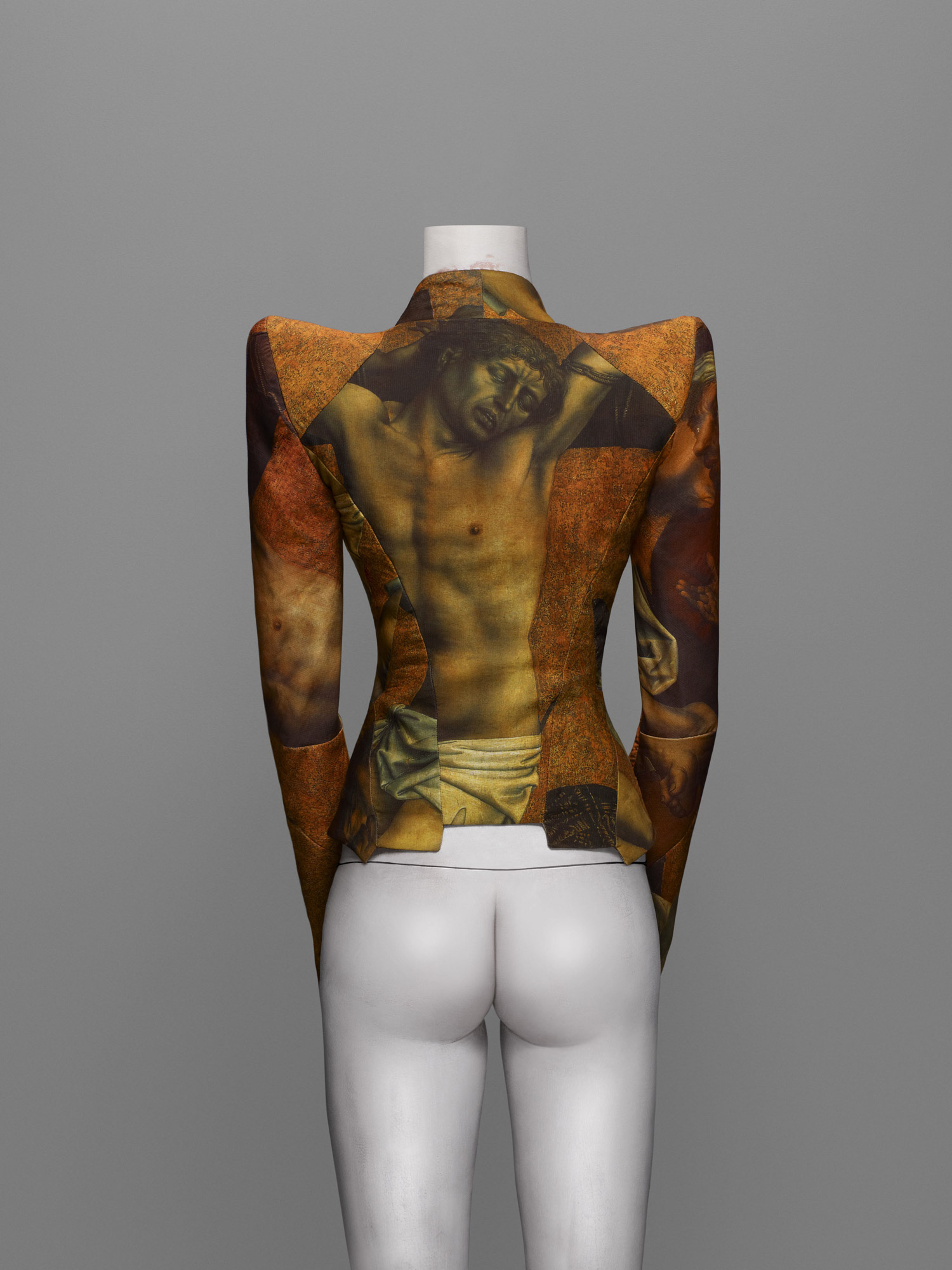 Another absolute favorite was this dress from his autumn/winter 2010-11 collection titled,
Angels and Demons.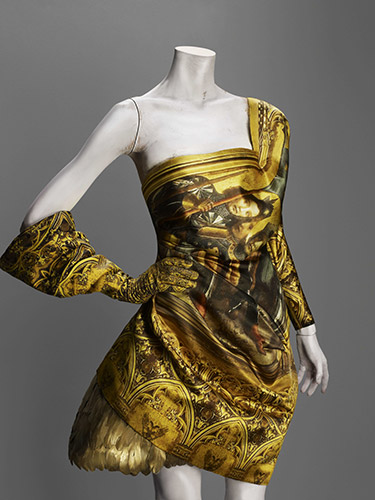 The remarkable balance that the glove lends to the dress is ingenious and beautiful. And the rich texture of the gold painted duck feathers playing off of the printed silk satin is gorgeous when viewed up close and in person.
In addition, the dress is paired with these incredible shoes.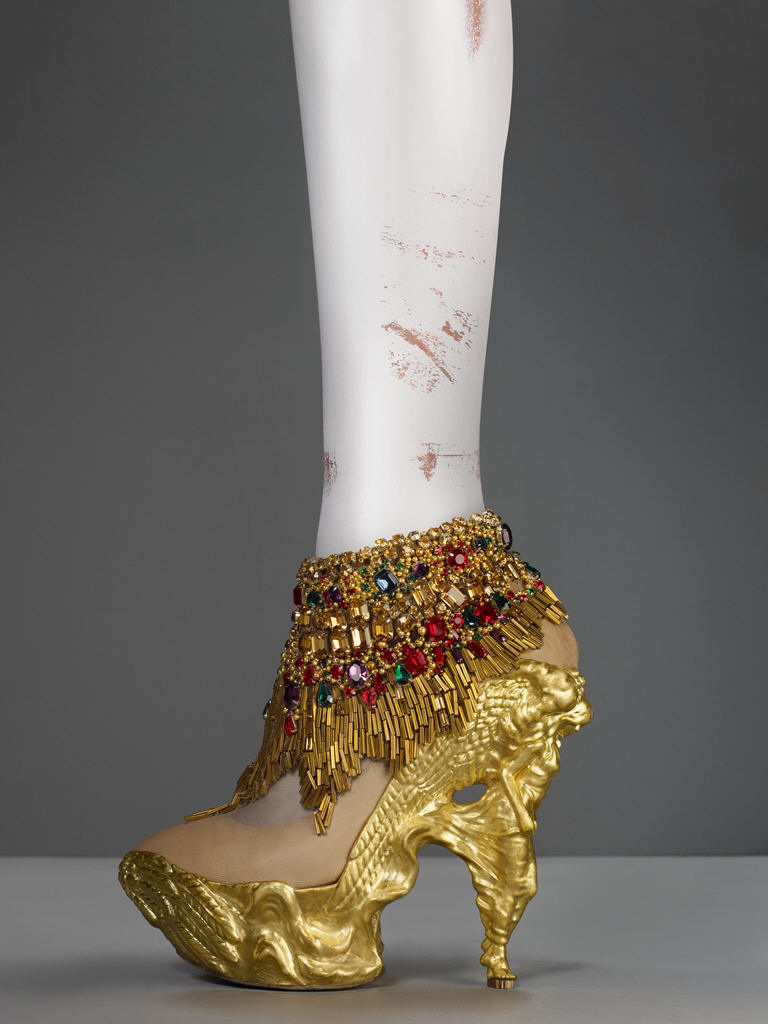 At first glance you are struck by the richness of the anklet and heel, but upon closer inspection you realize that the heel is actually a sculpture of an angel with wings spread wide behind her. The detail and exquisiteness of McQueen's work is extraordinary.
Another gorgeous creation is this cream silk tulle and lace dress with resin antlers from McQueen's autumn/winter 2006-7 collection titled,
Widows of Culloden
.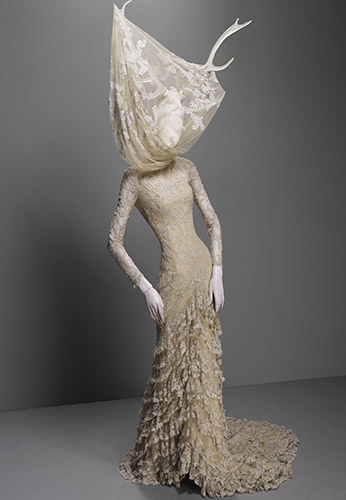 I loved McQueen's quote regarding the £2,000 lace embroidery that is pierced by the antlers. He states,
"When we put the antlers on the model and then draped over it the lace embroidery that we had made, we had to poke them through a £2,000 piece of work. But then it worked because it looks like she's rammed the piece of lace with her antlers. There's always spontaneity. You've got to allow for that in my shows." McQueen was not afraid to take chances. And the results, transformed his works into otherworldly pieces of art.
And the MET's exhibit space only enhances the designer's creations. My favorite room of the exhibition was "Romantic Gothic." The wall size antiqued mirrors and foreboding lighting is the perfect setting for Alexander McQueen's dark and gorgeous creations such as this coat of black parachute silk, black synthetic pants and Phil
ip Treacey hat.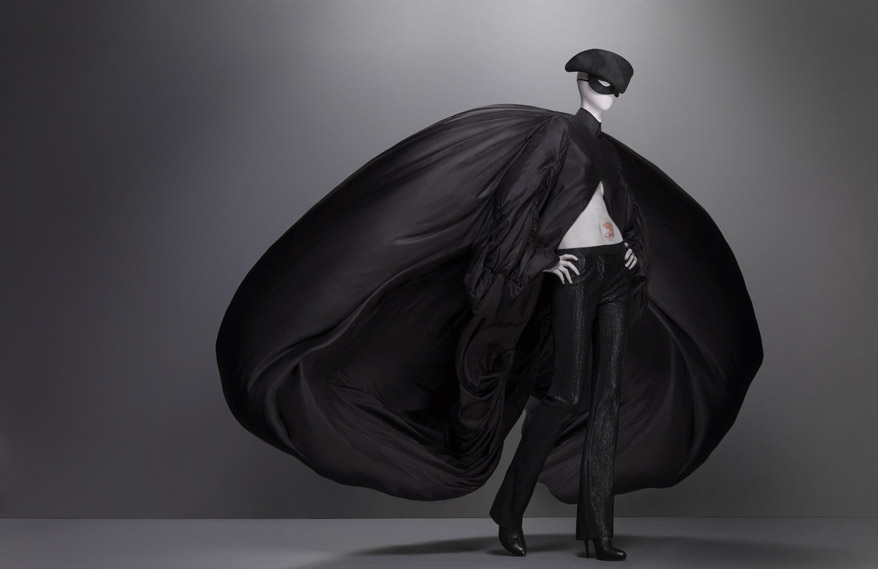 and this dress from his, autumn/winter 2009–10 collection titled, horn of plenty.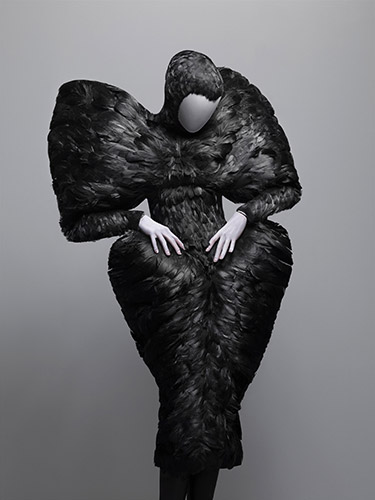 Created from duck feathers that were dyed black, it gives the impression of a raven, which as explained by the curator was a romantic symbol of death. The creation embodies McQueen's vision as he states, "It is important to look at death because it is a part of life. It is a sad thing, melancholy but romantic at the same time. It is the end of a cycle—everything has to end. The cycle of life is positive because it gives room for new things."
Drapers
, February 20, 2010.
While one would not wear most of these runway outfits on the street, McQueen said it best when he stated, "For me, what I do is an artistic expression which is channeled through me. Fashion is just the medium."
Muse
, December 2008. These are not simply frocks to wear about town, but they are works of art created by a master designer and storyteller who is now lost to us forever.
If you wish to catch the exhibit before it leaves on August 7, log onto
metmuseum.org
for more information. And to see more on the exhibit, go to
blog.metmuseum.org/alexandermcqueen/
.
There are so many more wonderful creations on exhibit at the MET and I highly recommend going to see them all in person.